Introduction of Fine Impact Crusher
These series of impact crushers are designed for crushing ores and rocks with particle size no more than 500mm and compression strength no more than 320MPa. They enjoy features of high crushing ratio, high-efficient crushing, cubic shape of product, alternative crushing, etc. and they are ideal aggregate processing widely used in expressway, hydropower construction, airport and building industries.
Applied Materials: Limestone, coal, cement clinker, iron ore, shale, dolomite, granite, gypsum, mixed materials, and other medium and hard materials.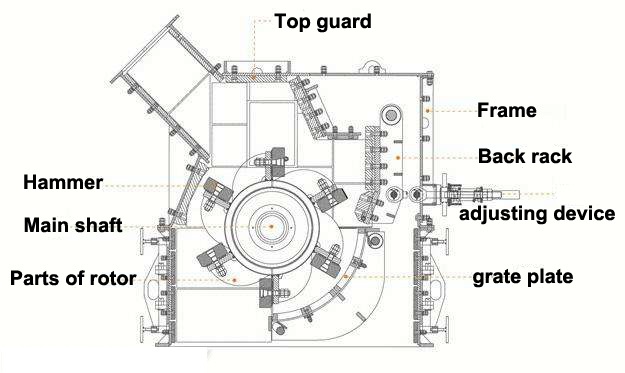 1.Output size very fine
2.Uniform particle-type uniform
3.Large capacity
4.Long life hammerhead
5.Small matching power
6.Change 3 stages crushing to 2 stages crushing
7. Process simplification

Model
(Rotor*Width)(mm)
Feeding port
size(mm)
Feeding
size(mm)
Output size
(mm)
Discharging
size(mm)
Capacity(t/h)
Power
(kw)
Cement clinker
Limestone
Glass sand

PXJ800×400

400x185

≤120

≤5

5-20

20-30

35-45

35-45

22-37

PXJ 800×600

500x250

≤180

≤5

5-20

35-40

45-55

45-55

37-45

PXJ 800×800

550x330

≤180

≤5

5-20

35*45

55-65

55-65

37-45

PXJ 1010×1010

1000x350

≤180

≤5

5-20

45-55

65-75

65-75

45-55

PXJ 1200×1000

1200x400

≤180

≤5

5-20

80-110

50-100

50-100

90-110

PXJ 1200×1200

1200x450

≤180

≤5

5-20

100-110

90-100

90-100

110-132

PXJ 1400×1400

1500x500

≤190

≤5

5-20

100-150

100-150

100-150

160

PXJ 1600×1600

1600x550

≤190

≤5

5-20

170-210

190-250

190-250

200

PXJ 1800×1800

1800x800

≤190

≤5

5-20

250-270

280-310

280-310

315