Mobile Trommel Screen Introduction

Mobile trommel washing plant is composed by hopper, trommel, chassis, tires, turntable, generator, water pump, gearing, control panel and gold recovery sluice.
The mobile trommel screen is a optimized removable platform for gold recovery, applicable to small or medium scale of placer gold ore processing that need mobile operation.




Heavy Duty and Light Duty

The drum can be divided into heavy duty and light duty.
Heavy duty: the drum has a double-layer structure, inner layer with dense steel bar structure, which can prevent large material impact the screen directly, greatly improved the service life and screening efficiency for the outer screen. Light duty: the drum has a single layer screen, it is used in the material that no large material included, its advantage is light, which can reduce the weight of the whole equipment and energy consumption.

We also provide wholesale complete potable gold trommel wash plant: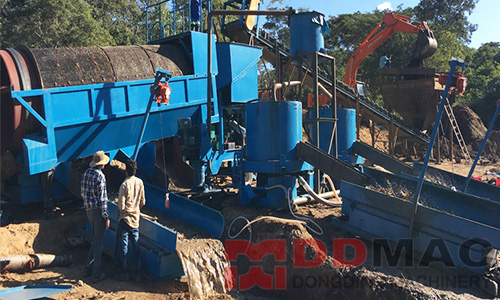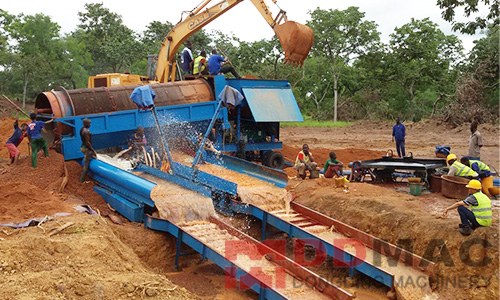 Mobile Trommel Screen Advantage

1. The whole drum adopts strong and reinforced roller support and gear side drive, or chain pulley drive.
2. It has large processing capacity, high efficiency, long service life, and easy to replace, no clogging.
3. Mobile platform can easily cope with all kinds of complicated road.
4.The chassis equipped with other four mechanical support legs, ensure the equipment run more smoothly, reliable and safe during load running.
5. Generator & motor separated drive, or direct diesel engine drive, low failure rate, easy maintenance.
Mobile Trommel Screen Washing Machine Specification


Technical Parameters

Model
Capacity (t/h)
Power (kw)
Drum diameter (mm)
Drum length (mm)
Screen size (mm)
Dimension (mm)
Weight (kg)
MGT1030
30-50



Diesel engine
1000
3000



3~ 20
5860*1400*2550
3900
MGT1230
50-80
1200
3000
5860*1600*2600
5500
MGT1545
80-120
1500
4500
8310*2180*3030
8600
MGT1848
120-180
1800
4800
8500*2450*4000
9300