Introduction
Mobile trommel washing plant is composed by hopper, trommel, chassis, tires, turntable, generator, water pump, gearing, control panel and gold recovery sluice. The mobile trommel screen is a optimized removable platform for gold recovery, applicable to small or medium scale of placer gold ore processing that need mobile operation. Its advantage: less investment, less labor, fast return of investment, simple operation ,
mobile etc.

1. Washing and Screening System

The excavator feeds raw ores into the mobile trommel screen which have hopper and primary screen.
The primary screen is to screen the larger sized gravel to avoid clogging the hopper. At the same time,
wash the material with water. Then the materials will into trommel screen which has 2 screen mesh(6mm and 15mm) for second screening.
And it will be divided into three types, -6mm, 6-15mm and + 15mm. (6mm and 15mm screen mesh just for your reference, this part can bu customized)

2. Alluvial Gold Concentrating System (-6mm)

The alluvial gold -6mm feed into gold concentrator to recovery gold. Gold concentrates will be feed into
shaking table to produce the final gold concentrate which can be smelt by smelting furnace. Tailings goes into the sluice box for recycling again.
One centrifugal concentratorworks and the other one removes the collected fine gold. Same as sluice box.
The cleaning time will be 2-6 hours later on gold concentrator. The time for manual cleaning on sluice box will be 4-6 hours later.

3. Alluvial Gold Concentrating System (6-15mm)

The alluvial gold between size 6-15mm feed into the vibrating sluice box for recoverying. The cleaning time will be 4-6 hours later on vibrating sluice box. Same as carpet sluice box.

4. Alluvial Gold ConcentratingSystem (+15mm)

The gold content inside the +15 mm material is very less, so manual picking is recommended.

5. Final Concentrates Processing System

The collected concentrates from concentrator and vibrating sluice box and carpet sluice box, will be feed into shaking table to get the final concentrates.

Some Gold Wash Plant Site For Reference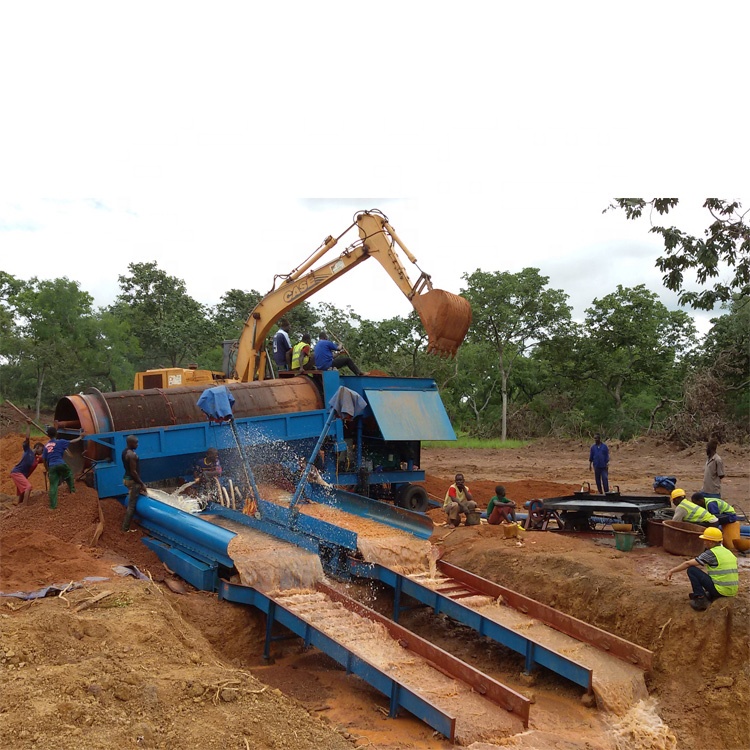 The drum can be divided into heavy duty and light duty.
Heavy duty: the drum has a double-layer structure, inner layer with dense steel bar structure, which can prevent large material impact the screen directly, greatly improved the service life and screening efficiency for the outer screen. Light duty: the drum has a single layer screen, it is used in the material that no large material included, its advantage is light, which can reduce the weight of the whole equipment and energy consumption.

Specification:
Technical Parameters


Model

Capacity (t/h)

Power (kw)

Drum diameter (mm)

Drum length (mm)

Screen size (mm)

Dimension (mm)

Weight (kg)

MGT1030

30-50




Diesel engine

1000

3000




3~ 20

5860*1400*2550

3900

MGT1230

50-80

1200

3000

5860*1600*2600

5500

MGT1545

80-120

1500

4500

8310*2180*3030

8600

MGT1848

120-180

1800

4800

8500*2450*4000

9300